2013 was a fantastic year for films, where there were many stand-out flicks in both serious and comedic genres. Honourable mentions go to The World's End, Trance, Les Miserables, The Impossible and Side Effects. Despite their individual brilliance, the fact that they didn't make the top 10 is testament to the plethora of fantastic films released in the UK in 2013, and how strong they were.
10. CAPTAIN PHILLIPS
While certainly a slow-starter, Captain Phillips grew into one of the most tense and fixating films of the year, and was deservedly nominated for a myriad of Oscar categories. Following, er, Captain Phillips (Tom Hanks), through a terrifying ordeal where his boat is captured by Somalian pirates, (Barkhad Abdi with a particularly exquisite performance), the film focuses on raw emotion and conflict of morals rather than stunning adrenalin-pumped sequences; a wise decision by director Paul Greengrass. However, only the film's dying moments makes Captain Phillips a great film, as opposed to a good one.
9. ANCHORMAN 2: THE LEGEND CONTINUES
2013 was filled to the brim with excellent comedies. Anchorman 2 is no doubt one of them, a sequel that lived up to the high expectations surrounding it. It's truly hilarious, containing some magnificent moments that had the whole audience crying with laughter (no hyperbole used). Following Ron Burgundy (Will Ferrel) and his news team (Steve Carell, Paul Rudd, David Koechner) through silly antics (the plot is barely there), the film descends (or ascends) into brilliant madness that is, at times, side-splitting (and at other times, unfunny, such as a dinner scene involving Ferrel and his 'black lingo'). Yet for every damp squib, there's three or four quotable lines ('A black man always follows me when it's sunny' or 'No offence, but you're a stupid asshole!'), or an achingly-funny sequence.
8. ONLY GOD FORGIVES
Only God Forgives is frustrating to watch. As with Nicolas Winding Refn's previous film, Drive, it's visually vibrant and makes great use of non-diegetic sound. Yet it's much harder to follow and shrouded by intrigue that comes across as both interesting and pretentious drabble. On my first viewing, I was slightly nonplussed as to what I thought of the film; I was impressed by it's atmospheric qualities, but both the characterisation and the seemingly non-existent plot hindered it. Second and third viewings have made me appreciate each performance and their subtlety (Ryan Gosling is good, but is completely outclassed by Kristin Scott-Thomas' despicable motherly figure), as well as giving me more opportunities to pick out the symbolism and metaphorical meaning behind each scene. If you are to watch Only God Forgives, do so without the expectation of a formulaic plot or conventions associated with thrillers. It's understated, unnerving and exquisitely framed.
7. UPSTREAM COLOUR
Did you understand Upstream Colour on first viewing? No, neither did I. Shane Carruth's long-awaited followup to 2004's (wildly-overrated and just as confusing) Primer sees a woman (Amy Seimetz) taken over by a worm-like parasite, a man that enters her life (played by Carruth), a group of pigs and the farmer that keeps them in order, and… uh, that's it. The audience is tasked with putting the film's numerous strands into a coherent plot. It's once again utterly ostentatious, but not in a way where its knowingly-pretentiousness is a burden. Beautifully shot and fantastically scored (by, er, Carruth once more), Upstream Colour appears as 2013's most confusing, distorted and interesting film. Multiple viewings are recommended.
6. ALAN PARTRIDGE: ALPHA PAPA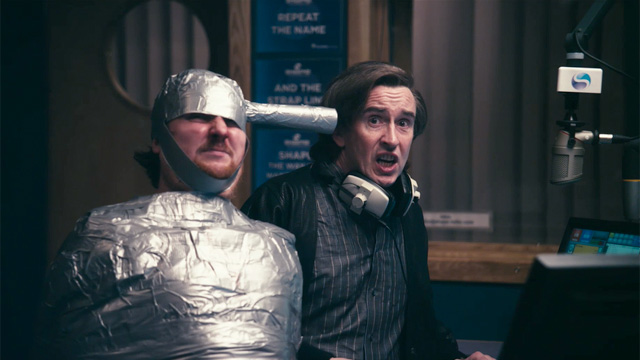 Steve Coogan effortlessly transfers his TV persona onto the big screen, in a much more impressive way than Mitchell and Webb's The Magicians. The reason why? Alpha Papa is undoubtedly the funniest comedy of 2013. Slapstick merges seamlessly with stunning one-liners spewed from a top-class script: "We're asking, what is the worst monger? Iron, fish… rumour… or war?". Amazing. Coogan isn't self-indulgent either in the way he wants to show Partridge off to the audience, ever keen to embarrass himself, or portray himself selfishly. The humble performance was just the pinnacle of what had been a stellar year for Coogan, appearing in other such films as What Maisie Knew and Philomena. Funny stuff.
5. FILTH
Tragically unheard of over in the States, Filth contains James McAvoy's best performance to date. He plays a despicable Scottish psychopath with a childhood shrouded in mystery and problems with both his family and his work. Fixated on sex, drugs and anything that can be deemed offensive, the film starts comedic and quickly grows dark and dreary, descending into one of the most depressing films of the year. At times incredibly surreal, the performances of every actor in the film are outstanding, where Eddie Marsan and Shirley Henderson particularly stand out as supporting cast. Filth is the best adaptation of one of Irvine Welsh's novels since Trainspotting, and for that earns a place on my top 10.
4. GRAVITY
Gravity's minimalistic plot is by no means unintentional; if anything, it helps capture the audience more vividly in the overwhelmingly realistic details weaved into the film. More impressive is the immeasurable, inescapable tension felt throughout the film. Akin to All is Lost and Captain Phillips, the plot involves the feeling of helplessness as character(s) are trapped in a situation from where there is seemingly no way out. And for a large part of the film, you can sense that Bullock's character's future is escaping from her grasp. Does she make it back to Earth? Well, this is a high-grossing Hollywood film, so I'll let you make your mind up from there. What particularly impresses is Sandra Bullock's physical acting, where she epitomises fragility and fear with little dialogue. While the Oscar for Best Actress went to Cate Blanchett for her work in Blue Jasmine, Bullock perhaps gives the performance of her career in this film. Stunning visuals also work in the film's favour, which helps to engage with the audience as if you're in place of Bullock. Mesmerising, Gravity is a spectacle of a film where you need to watch it in the 3D medium to appreciate it fully.
3. CLOUD ATLAS
Opening to a £6m box office return, Cloud Atlas is criminally underrated, inaccessible and relatively unheard of. Which makes no sense; it's helmed by the directors of the Matrix Trilogy, features a number of A-list actors (Tom Hanks, Halle Berry, Jim Broadbent), and has an ambitious scope that it just about manages to achieve. Cloud Atlas is an epic, and not short of a masterpiece. It's a mixture of emotions, action and pace that rarely seem cluttered; and while not every story (in Cloud Atlas, six intertwining stories are told in fantastic detail) is impressive, the flick is visually stunning, and has a magnificent score that resonates with the audience for days on end.
2. THE GREAT GATSBY
A movie that was slammed by critics, being too in-your-face, boisterous, and absolutely not atypical of the era it was set in. Well, it seems like critics miss the point of Baz Luhrmann and his style. This film perhaps encapsulates everything Luhrmann moreso than Romeo & Juliet, or even Moulin Rouge. It's also the film I prefer the most out of the trio; booming music, incredible visuals that, contrary to what most people think, don't tire you out the longer you progress into the movie, and once again, dazzling performances. Carey Mulligan and Joel Edgerton steal the show; Mulligan as a romantic woman torn between her husband and Gatsby, and Edgerton as a plastic, slimy, charmless husband to Mulligan. Edgerton's brutality is exquisite. As too is Mulligan's facade of a sweet innocent woman. DiCaprio's performance, on the other hand, is what would be expected of Gatsby, but it's a little overplayed at times.  Nevertheless, if you're a fan of Luhrmann, The Great Gatsby impresses and entertains on so many levels, with the only afterthought being a gobsmacked "wow".
1. THE PLACE BEYOND THE PINES
"If you ride like lightning, you're gonna crash like thunder."
Derek Cianfrance's latest film since Blue Valentine is absolutely incredible. It tells the tale of a motorcyclist (Ryan Gosling), as he tries to support his family. A cop (Bradley Cooper in his best ever performance) enters the fray and the consequences of their encounter are told in the film's final act. The Place Beyond the Pines is the most moving film of 2013, featuring a raw, understated performance from Ryan Gosling (his best ever performance) and a haunting soundtrack that etches its way into the audience for some time after the end credits appear. A masterpiece, the film manages to be both thrilling, tense and emotional, each attribute balanced perfectly by Cianfrance as not to dominate the film. Dane DeHaan, who plays Gosling's son, brings out another fantastic performance, a definite rising star that has a great future ahead of him. What makes The Place Beyond the Pines so special is its ability to resonate with the audience, to show a raw and fresh reality that strikes deeply into the audience's heart.